Liberty students were the recipients of a special presentation by educational consultant and Liberty alumnus Mike Sissel on October 5th.  Sissel, who lives and works in Chandler, Arizona, happened to be back in his hometown and was able to find time to pay a visit to his former school.  "It's fun to see kids in the same classrooms and settings that I was in when I was their age.  The school looks great!" Sissel said.
His message focused on positive energy and the leadership qualities that every child already has within them. "Your actions can create positive or negative ripples" said Sissel.  "Make sure your ripples are positive." Sissel's message of every student being a leader resonated with the students.  "You are in charge of yourself," said one student.  "You can't take care of others if you can't take care of yourself."  Another student said "All of our actions send a message – we need to make sure they are good messages."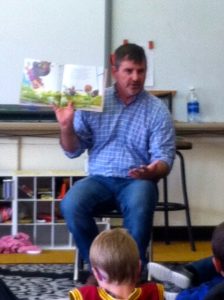 Sissel reads to students during a special visit to Liberty.